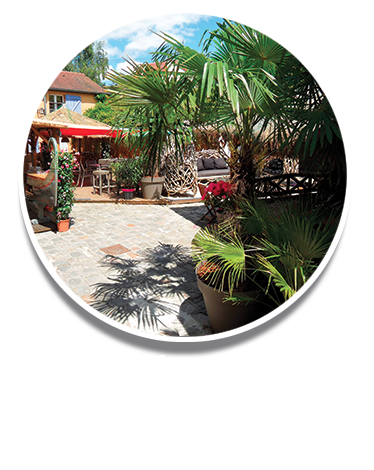 The terrace of La Cabane

Away from the traffic, the terrace of La Cabane is a haven of peace where it is good to linger …

Whether you arrive by the edges of the Yvette side car park or by the beautiful old paved courtyard side street, the getaway in Bali begins. Here, a tuk tuk straight from the Indonesian streets invites you to join our bar canoe. There, life-size bears cut in tree trunks stand guard. Put your feet in the white sand, basking in our driftwood chairs sipping one of our mojitos …
Escape assured! Sheltered from the sun under a Balinese straw hut, well settled on soft sofas, enjoy the sweetness of life while sipping a mojito, a caipirinha, a cocktail or a smoothie of your choice.
You can of course lunch or dine on the terraces under the shade of the sails of boat and enjoy the serenity of a beautiful starry night as if you were on a beach at the other end of the world.
« A holiday look every day of the year at La Cabane»